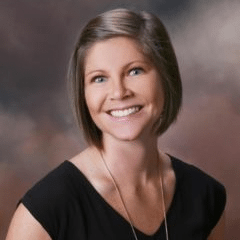 Office:
Brittany R. Poe, APRN
Women's Health Care Nurse Practitioner
Office:
Brittany obtained a BS in Animal Science and Equine Industry in 2006.
While utilizing this degree in part-time work with horses, her full-time Program Manager position with a health foods company sparked her interest in human health, ultimately leading to a Bachelor's in Nursing in 2009. She started her nursing career in the Burn ICU but quickly fell in love with Oncology patients. She worked in the Bone Marrow Transplant Unit and Medical Oncology for 3 years while studying for her Masters in Nursing, which she obtained in 2013. All three of these degrees were achieved at the University of Florida, so she is a Gator through and through!
Brittany began her ARNP career in internal and integrative medicine. She gained a special interest in women's health, metabolic health and hormone imbalance. Brittany also began working for a local CrossFit gym as a nutrition and weight loss coach and strength and conditioning instructor. Due to a long road of infertility herself, when a position opened in reproductive medicine, women's health, and nutrition, Brittany did not hesitate to apply. Brittany has been with Advanced Reproductive Specialists / Jacksonville Center for Reproductive Medicine now for 3 years. She assisted in opening the Gainesville office location, Advanced Reproductive Specialists of Gainesville, which she now operates full-time.
Brittany and her husband, Bryce, now have boy-girl twins, thanks to the wonderful JCRM team. She is passionate about passing this reproductive assistance on to her patients, as well as helping her clients achieve optimal hormone and metabolic health.