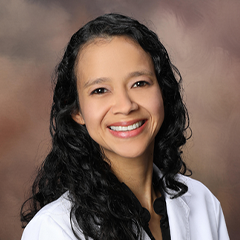 Office:
Dora Irizarry, APRN, FNP-C
Women's Health Care Nurse Practitioner
Office:
Dora Irizarry is a board certified Family Nurse Practitioner and has worked with Women's Health in the last five years. She obtained her nursing degree from Florida State College at Jacksonville in 2012 and while working in a progressive care unit, she earned her Bachelor of Science degree in Nursing from the University of North Florida in 2014.
Dora started her path in Women's Health in 2016, including training in postpartum care. Meanwhile, she received her Master's degree as a Family Nurse Practitioner from Jacksonville University in 2020. Dora holds a national certification with the American Academy of Nurse Practitioner (AANP).
Dora is fluent in both English and Spanish and is thrilled to serve a diverse patient population. She enjoys spending time with her husband and two daughters. In her spare time, she enjoys church activities, running, and traveling.