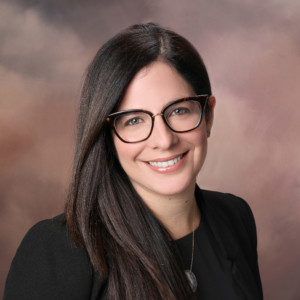 Dr. Laura E. Cedó Cintrón, MD
Board Certified in Obstetrics & Gynecology
Dr. Laura E. Cedó Cintrón was born and raised in Puerto Rico where she grew up to be fully bilingual in both English and Spanish. She is very proud of her heritage and keeps both of her last names to honor her father and mother, but you may call her Dr. Cedó.
Since a very young age, Dr. Cedó considers herself to be a "tree hugger" and a lover of nature and in 2004 she completed her Bachelor of Science in Environmental Technology at the Interamerican University of Puerto Rico. During that time Dr. Cedó developed a strong interest for medicine and went on to graduate from the Universidad Central del Caribe School of Medicine in 2010, where she realized her strong passion for women's healthcare. She went on to complete her Residency in Obstetrics and Gynecology at the San Juan City Hospital in 2015 where she was recognized by her mentors and peers for her minimally invasive surgical skills. She was asked to stay at this same institution where she served as a clinical instructor in the residency program while she completed her Research Fellowship in Obstetrics and Gynecology in 2016.
Dr. Cedó matched in the highly competitive Fellowship in Minimally Invasive Gynecologic Surgery sponsored by the American Association of Gynecologic Laparoscopists (AAGL) and relocated to Nashville, TN, to train at Vanderbilt University Medical Center and graduated in 2018. During that time, she developed a strong interest for endometriosis, uterine fibroids, pelvic pain, and fertility preserving surgeries. She feels very fortunate to now be a part of the Jacksonville Center for Reproductive Medicine family since March 2019. Dr. Cedó aims to provide women, with "benign" pathologies, a chance to live life to its fullest potential.