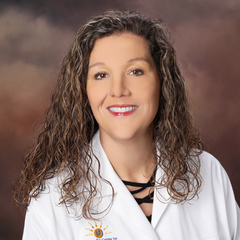 Office:
Samantha Noah, APRN
Women's Health Care Nurse Practitioner
Office:
Samantha obtained a Bachelor of Science degree in Health Science Education from the University of Florida in 1996. She was always impressed with her mom's nursing skills and abilities and knew that a career in nursing was her ultimate calling. She obtained an Associate of Science Degree in Nursing from Santa Fe College in 1999 and spent the next 17 years following her passion in critical care and emergency nursing. During her career at the bedside, she became certified in both critical care and emergency nursing.
Samantha experienced a severe and undiagnosable lung illness in her late 20's, and after many years found complete healing with a combination of acupuncture and nutrition. This journey sparked an interest in functional medicine and nutrition that Samantha still fosters today. She began to bring this knowledge to the bedside and realized that many of her patients craved the information she was able to provide to them regarding holistic health, nutrition, and wellness.
After experiencing fertility challenges of her own, she gave birth to her daughter in 2008. When it was time to try again, she discovered the amazing team at JCRM, and gave birth to her son in 2016, two days before she graduated with honors from the University of South Alabama with a Master of Science in Nursing. Samantha is dual certified as both a family nurse practitioner and an acute care nurse practitioner.
The first five years of her NP career were spent in neurosurgery and family practice, where she began to hone decision making and surgical skills and learned how to apply functional medicine, nutrition, and hormone health in the mainstream medical model. When the opportunity to join JCRM in the Gainesville office became a reality, she jumped at the chance. Samantha is excited to spend the rest of her career optimizing women's health and creating families. Samantha lives on a small farm just north of Gainesville and loves spending time with her husband and children when she isn't working.