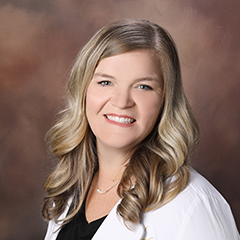 Office:
Brooke Howell, APRN
Women's Health Care Nurse Practitioner
Jacksonville / Gainesville
Office:
Born and raised in Jacksonville, Brooke graduated in 2012 with her Nursing degree from Florida State College at Jacksonville. While her ultimate goal was to be in Women's Health, she began her nursing career on an orthopedic & medical/surgical unit. In 2016, an opportunity arose for her to transfer to a LDRP unit, where she worked with post-partum moms and newborns.
 
In 2017, Brooke finished her Bachelor in Science degree from the University of Florida. In 2019, she began working at Baptist Medical Center Downtown with high risk post-partum, newborn and antepartum patients, while also working on her Master of Science in Family Nurse Practitioner degree. At the end of 2021, Brooke graduated with her MSN from Frontier Nursing University and became Board Certified through American Academy of Nurse Practitioners. Since graduating, she has continued to work in Women's Health and looks forward to providing care to the patients of ARS/JCRM!
 
In her free time, Brooke enjoys spending time with her husband, Kevin and their family. They love spending time outdoors and watching Florida football!