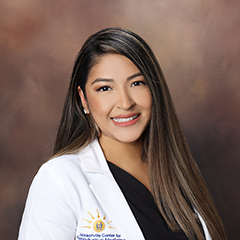 Office:
Carolina Tusha, APRN
Board Certified Family Nurse Practitioner
Office:
Carolina's nursing career began after she graduated from Florida State College at Jacksonville in 2014. While working in a Hematology/Oncology progressive unit, she completed her Bachelor of Science in Nursing degree from the University of North Florida in 2015. She started her path in Women's health in 2016, spending most of her Registered Nursing career in a high-acuity Labor and Delivery unit at Baptist Medical Center in Jacksonville. During this time, she became a Certified Inpatient Obstetric Nurse (RNC-OB) through the National Certification Corporation.
In 2023, she received her Master of Science in Nursing with a focus on Family Medicine from South University. She graduated as a member of the Sigma Theta Tau International Nursing Honor Society and holds a national certification with the American Academy of Nurse Practitioners (AANP).
She is very excited to continue her career path in Women's health, most specifically in reproductive medicine as she also had to navigate through this difficult road of infertility. Struggling with infertility firsthand and going through multiple failed IUIs prior to conceiving via IVF helped shape her into the nurse practitioner she wants to be for her patients. Working alongside and supporting her patients to the best of her ability is the most rewarding achievement and blessing. When it comes to helping patients, she believes that knowledge, compassion, and understanding are valuable attributes in any circumstance.
She is fluent in both English and Spanish. During her time off, she enjoys spending time with her husband and two children. They enjoy spending time on the boat, beach, and family gatherings.