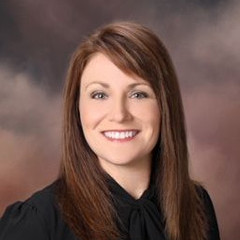 Office:
Kimburlie Adkins, APRN
Women's Health Care Nurse Practitioner
Office:
Kimburlie is a member of the American Society of Reproductive Medicine, Association of Women's Health, Obstetrics and Neonatal Nursing, American Association of Nurse Practitioners.
Kimburlie began her Nursing career in 2003 after graduating from Florida State College at Jacksonville. She worked as a labor & delivery nurse and as an OB/GYN nurse. Her duties included pregnancy screenings, prenatal counseling, caring for pregnant and laboring patients, including high risk and complicated pregnancies, assisting during gynecologic surgeries, providing postpartum care and newborn transitional care.
In 2013, she received her Bachelor's of Science degree in Nursing from the University of North Florida. While continuing to work in women's health in 2016, she earned a Master's of Science as a Family Nurse Practitioner from Chamberlain College of Nursing. Following graduation, Kimburlie worked as a nurse practitioner in an internal medicine office managing patients with chronic disease such as diabetes, hypertension, hyperlipidemia, and providing physicals, and gynecological exams.
In 2017, she joined Jacksonville Center for Reproductive Medicine. She currently assists in treating patients with infertility, hormone replacement therapy, metabolic dysfunction, Polycystic ovarian syndrome, and recurrent pregnancy loss.
When not at work Kimburlie enjoys traveling and spending time with her husband and two children.