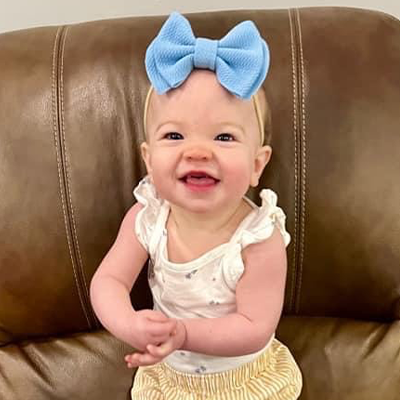 After years of pain and seeing several other doctors and failed surgeries, Dr. Lipari performed excision surgery and I had bilateral inguinal hernia repair in August of 2018. I finally began to have relief and live a normal life.
The next couple years he treated me for PCOS and hypothyroidism to get my body to optimum levels to get pregnant. My husband and I tried for seven months on our own, knowing I wasn't ovulating but I was still in school and couldn't handle fertility treatments at that time.
We finally got ready to really try and my husband deployed. The staff at JCRM worked with me and the constant delays of his homecoming to have our first ovulation induction scheduled for the week after he came home. I never would've thought the first treatment would work, but it did and we were pregnant.
The staff at JCRM took excellent care of me that first trimester and I was so sad to leave. Now we have our beautiful 13-month-old little girl and are starting the process to see how I'm doing and if we can start trying again next March. We are so thankful for all the doctors and staff at JCRM.