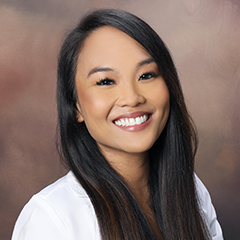 Office:
Sharon Torio, APRN
Women's Health Care Nurse Practitioner
Office:
Sharon's nursing career began after she graduated from Florida State College at Jacksonville in 2012. She then went on to complete her Bachelor's of Science in Nursing degree from Jacksonville University in 2013. In 2017, she graduated with her Master's of Science in Nursing with a focus on Family Medicine from Chamberlain College of Nursing. She graduated Magna Cum Laude and was also a member of the Sigma Theta Tau International Nursing Honor Society.
Since 2012, Sharon worked as a nurse at Baptist Medical Center in Jacksonville on a neurosurgery unit. She provided care for patients who underwent spine, brain, and cervical surgery. She also focused her care on patients who suffered from strokes, TIA's, brain aneurysms, brain bleeds, and seizures.
Sharon joined Jacksonville Center for Reproductive Medicine in 2020. She helps with treating patients with infertility, endometriosis, metabolic dysfunction, and polycystic ovarian syndrome. While she's not in the office, you'll find her assisting the doctors in the OR with their various gynecologic surgeries.
In her free time, she enjoys spending time with her 3 nephews, watching movies, and traveling with her friends.