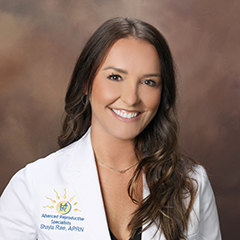 Office:
Shayla Rae, APRN
Women's Health Care Nurse Practitioner
Office:
Shayla was born and raised in Southeast Iowa. She graduated from Mount Mercy University in Cedar Rapids, Iowa with a Bachelor of Nursing in 2012. Upon graduation, she began working as a labor and delivery nurse at Mercy Medical Center in Cedar Rapids. Shayla knew at a young age her passion for OBGYN. At the start of her bedside nursing career, she simultaneously began her graduate studies with the University of Illinois at Chicago, obtaining her Master of Science in Nursing in 2017. She is dual certified as a Women's Health Nurse Practitioner and Certified Nurse Midwife. 
 
Shayla began her career as an Advanced Practice Nurse in 2017, working as a Women's Health Nurse Practitioner in her hometown of Fairfield, Iowa. She was able to provide OB/GYN care for women in rural Iowa for 6 years before making the decision to move to the Jacksonville area.
 
Shayla is very excited to advance her career path in women's health, most specifically in reproductive medicine as she's always had a strong passion for this subspecialty. She feels very blessed to have the opportunity to work with families as they go through their journeys to becoming parents. 
 
In her spare time, Shayla is a busy mom to her daughter, Elin, who is a horse-riding addict! She looks forward to spending weekends at the horse arena watching her daughter ride, as well as warm sunny days on the beach! Shayla is fortunate to have other family close by and enjoys spending time exploring the area and finding new restaurants to try.